When it comes to getting blistering performance out of your PC, it's pretty clear that an SSD can make all the difference. And that's in no small part due to the sequential read/write speed of the drive you've chosen.
Today's games are demanding more and more from your rig, and a lot depends on how fast your PC can transport data via your storage option.
Time for an upgrade?
The Samsung NVMe SSD 970 EVO Plus is a NVMe solid state drive capable of read speeds of up to 3,500MB/s and write speeds of 3,300MB/s*. That is around 30x faster than an old-school spinning platter hard drive and six times faster than a standard SATA SSD. 
This blistering speed makes Windows feel more responsive and cuts down the load times in all games a staggering amount. And, let's be honest, half of the pain of dying in a game is that load screen wait after it happens. 
PC gaming has become even more immersive, with DirectX 12 allowing for ultra-realistic graphics and effects. And for those who want the best experience when accessing this amazing, long-awaited content, the right kind of SSD certainly comes in handy.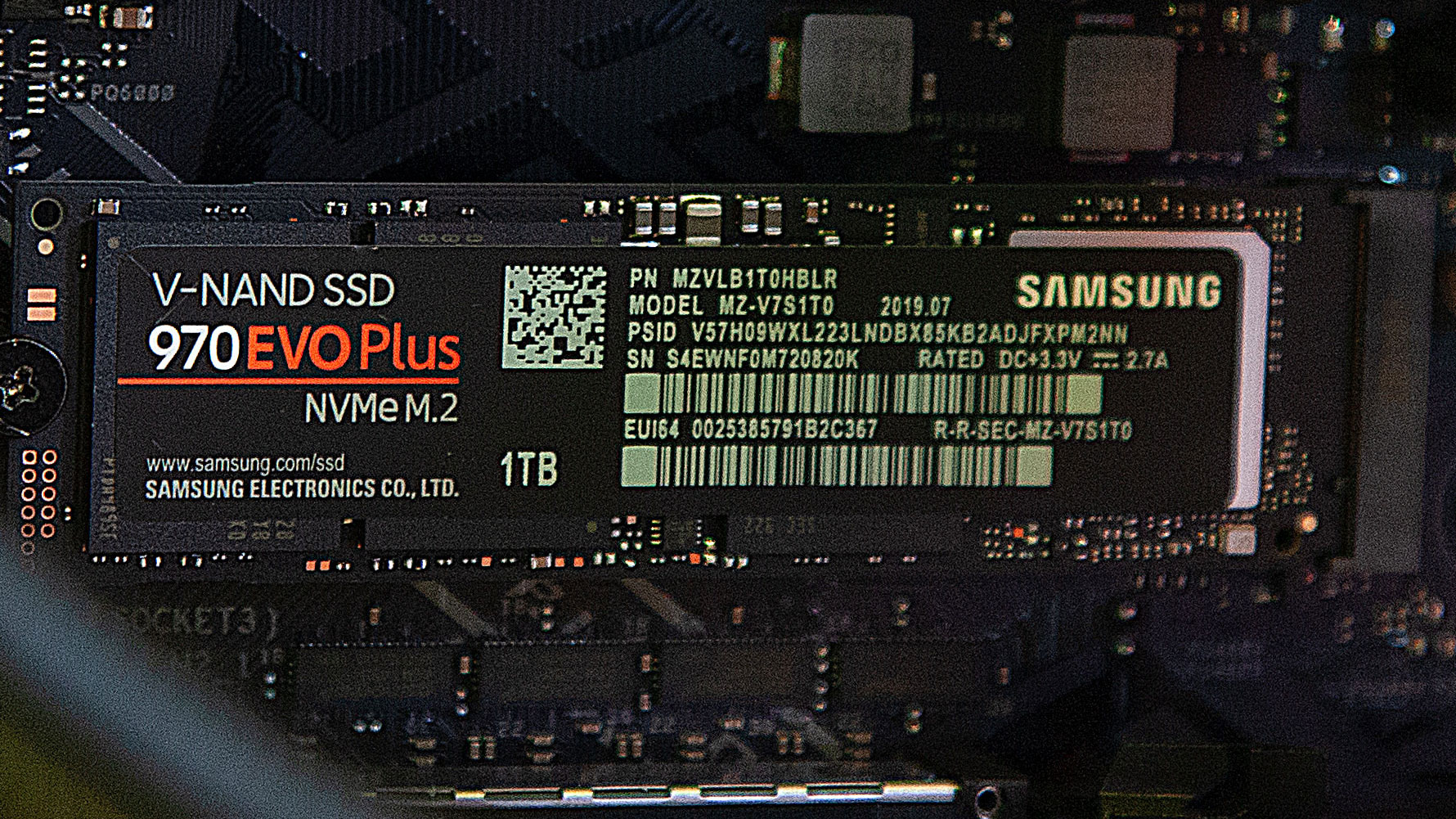 Need a bigger boot?
For hardcore and occasional PC gamers alike, you'll no doubt have noticed that the system requirements demanded in recent times are getting ever more exaggerated.
And actually, for many of us it's the storage that often gets overlooked. After all, it's having the extra storage on tap that makes all the difference when you're joining a super-competitive game and you don't want to lose your edge. 
Back in the days when PC games mostly came on discs, the space they could chomp up was limited. Nowadays games can use up 150GB, more than the space left on some laptops when you first take them out of the box. 
A 970 EVO Plus is one of our favorite gaming rig upgrades of the moment. It plugs right into an M.2 slot on your motherboard, hardly takes up any space in your case and adds up to 2TB of additional storage. 
That's probably enough room for every game on your Steam wishlist, many times over. No more worrying about what you'll have to uninstall to play the latest open-world masterpiece on launch day. All those lovely high-resolution textures could cost you 50GB-plus.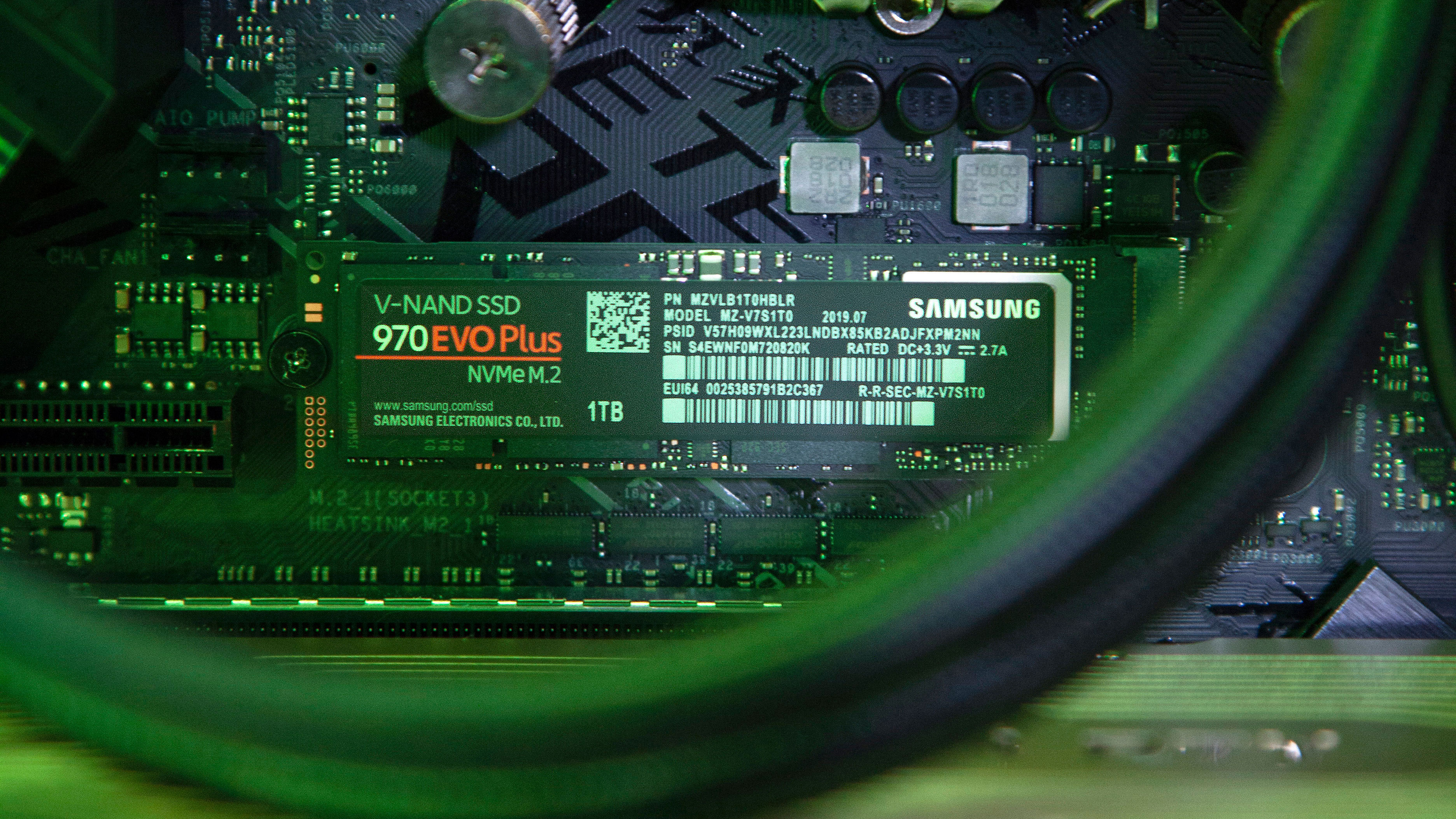 Work and play
Now that the 4K revolution has firmly taken hold, PC gamers have the chance to see a whole new dimension of quality. But what about the heavy data needed to handle the explosion of VR onto the PC scene? Our bet is that you'll want to future-proof your PC now to get the best out of the excellent VR games out already, and those the developers are dreaming up next.
But the benefits of a Samsung NVMe SSD don't end with gaming. Any task that requires juggling large data files flies along with one of these NVMe drives. They are a huge benefit for photo and video editing, particularly when dealing with high-bitrate 4K clips that chomp up gigabytes in seconds. 
It all comes down to the idea of "bottlenecks". With a Samsung NVMe SSD you never feel slowed down by your storage, letting you get on with whatever you need to do without the loading lag. 
You can also use one of these SSDs as your boot drive. This means you'll feel the benefit of NVMe speed every time you bring your computer out of sleep, and with every move you make in your operating system.
Samsung lets you choose your level of storage. There are 250GB, 500GB, 1TB and 2TB Samsung NVMe SSD 970 EVO Plus drives. We think the 500GB is the sweet spot for many of you. 
Its RRP is $129.99, although it's currently on sale at $119.99 (£120, AU$199), has space for several data-hungry games and even your OS. And having heard about all its performance stats, you'll understand why you'd want to put all your data, not just games, on a 970 EVO Plus. 
Want to know prices for the full range of the SSD 970 EVO Plus? The line-up starts with the 250GB model with an RRP of $89.99, but that's currently down to $74.99 (£83, AU$139). 
If you have, or want to have, a big games library, consider a leap to the big leagues. The 
1TB 970 EVO Plus normally costs $249.99, but can be snapped up for just $214.99 (£232, AU$385) at the moment. And, with a spot on our Christmas list, the 2TB 970 EVO Plus at $499.99 is currently down to $449.99 (£421.73, AU$769). 
You can find additional information at Samsung.com.
*Figures based on Samsung testing. Performances may vary depending on SSD's firmware version and system hardware & configuration. Up to 53 percent performance increase for sequential write speed for 250GB version.