The AMD Radeon RX 7000 "RDNA 3" GPU lineup is currently missing a large segment within the $400-$600 US price range. The company has introduced two high-end flavors, the 7900 XTX and 7900 XT which start at $799 US (Official MSRP), and an entry-level Radeon RX 7600 in the sub-300 USD segment. This is a large gap that has already been filled with at least three GPU options by NVIDIA.
NVIDIA currently offers its GeForce RTX 4060 which starts at $299 US, the RTX 4060 Ti at $399 US, and the RTX 4070 starting at $599 US. The main competitors to these cards are AMD's older RDNA 2 offerings which do offer a better value proposition and the sales of the RTX 4070/4060 series has not been very promising for the green team. But with continued discounts, users are finding some value in these cards, and that leads NVIDIA to retain its share hold over AMD which despite offering better value in its cards isn't able to move enough quantities.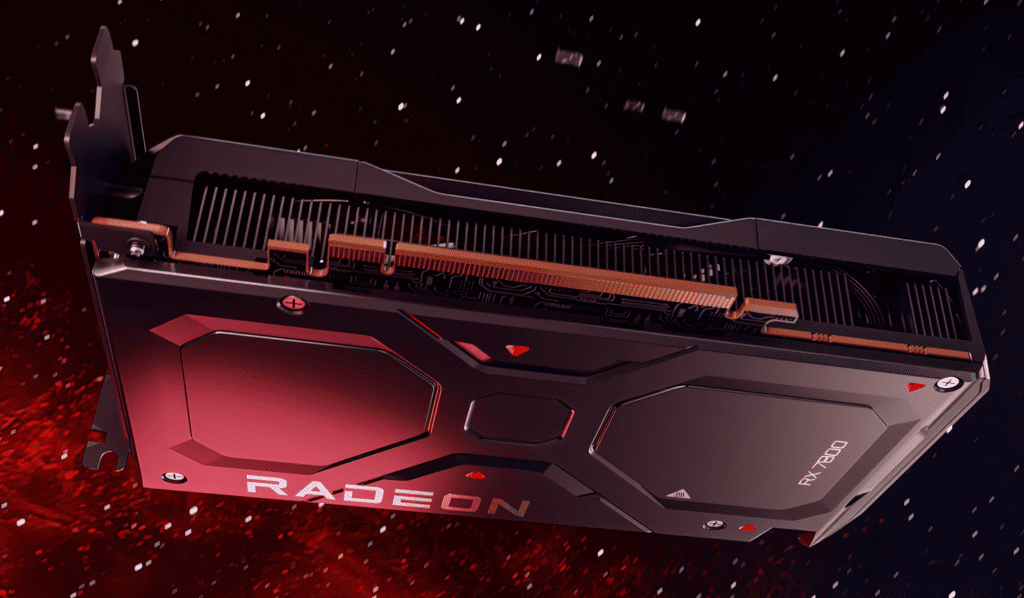 Now, the company wants to change the game with the introduction of two brand-new graphics cards. According to Benchlife and JonPeddie, AMD is aiming to launch the Radeon RX 7800 XT & Radeon RX 7700 XT GPUs in the third quarter of 2023 close to Gamescom in Cologne, Germany. JonPeddie is stating an announcement to take place around late August while Benchlife states an early-September launch. I think we can all just settle for late Q3 since that makes more sense but we don't know if this would be a paper-launch or a hard-launch like the Radeon RX 7600 which hit retail availability the same day as it was announced.
In addition to Radeon RX 7900 GRE, AMD and its AIB partners are also preparing two Navi 32 chip graphics cards such as Radeon RX 7800 XT and Radeon RX 7700 XT, which are expected to be available in early September.

via Benchlife

According to various leaks from Asia, the rumor capital of the industry, AMD is preparing to announce at least two new 7000-series AIBs and may do so at Gamescom in Cologne, Germany, in late August. AMD is overdue for new AIBs and has some open slots in its SKU lineup against Nvidia, which has just filled out its list.

via JonPeddie
Currently, there are no specifics regarding the specifications of the two graphics cards but the AMD Radeon RX 7800 XT and RX 7700 XT are likely going to utilize the Navi 32 "RDNA 3" die. This is due to the fact that the Radeon RX 7600 is already using the top Navi 33 die leaving no more room for another high-end SKU.
The AMD Radeon RX 7800 XT could feature 16 GB memory while the Radeon RX 7700 XT could feature 12 GB memory which will be the same as their predecessors, the 6800 XT & 6700 XT. The Radeon RX 7700 XT may hold a better position against the RTX 4060 series if its priced around the $400-$500 US range while the RX 7800 XT can give a good knock to the RTX 4070 series if its appropriately priced around the $550-$650 US range. There are also some performance figures doing the rounds on the web but we can assure you that those aren't real.
We will know more about the new Navi 32 GPU-based Radeon RX 7000 offerings next month if the launch actually takes place by then.
AMD Radeon RX 7000 RDNA 3 GPU Lineup "Rumored":
GRAPHICS CARD
AMD RADEON RX 7900 XTX
AMD RADEON RX 7900 XT
AMD RADEON RX 7900 GRE
AMD RADEON RX 7800 XT
AMD RADEON RX 7700 XT
AMD RADEON RX 7600 XT
AMD RADEON RX 7600
GPU
Navi 31 XTX
Navi 31 XT
Navi 31 LE?
Navi 31 ?
Navi 32 ?
Navi 32 ?
Navi 33 XL
Process Node
5nm+6nm
5nm+6nm
5nm+6nm
5nm+6nm
5nm+6nm
5nm+6nm
6nm
Die Size
300mm2 (Only GCD)
522mm2 (with MCDs)
300mm2 (Only GCD)
522mm2 (with MCDs)
300mm2 (Only GCD)
522mm2 (with MCDs)
300mm2 (Only GCD)
522mm2 (with MCDs)
TBD
TBD
204mm2
Transistors
58 Billion
58 Billion
58 Billion
58 Billion
TBD
TBD
13.3 Billion
GPU WGPs
48
42
40-42
30?
24?
20?
16
Stream Processors
6144
5376
5120-5376
3840?
3072?
2560?
2048
TMUs/ROPs
384 / 192
384 / 192
TBD
TBD
TBD
TBD
128 / 32
Game Clock
2.3 GHz
2.0 GHz
TBD
TBD
TBD
TBD
2.2 GHz
Boost Clock
2.5 GHz
2.4 GHz
TBD
TBD
TBD
TBD
2.6 GHz
FP32 TFLOPs
61 TFLOPs
52 TFLOPs
50 TFLOPs
TBD
TBD
TBD
22 TFLOPs
Memory Size
24 GB GDDR6
20 GB GDDR6
16 GB GDDR6
16 GB GDDR6?
12 GB GDDR6?
8 GB GDDR6?
8 GB GDDR6
Infinity Cache
96 MB
80 MB
48 MB
60 MB?
48 MB?
40 MB?
32 MB
Memory Bus
384-bit
320-bit
256-bit
256-bit
192-bit
128-bit
128-bit
Memory Clock
20 Gbps
20 Gbps
20 Gbps
20 Gbps
20 Gbps
20 Gbps
18 Gbps
Bandwidth
960 GB/s
800 GB/s
640 GB/s
640 GB/s
480 GB/s
320 GB/s
288 GB/s
Effective Bandwidth
3.5 TB/s
3.5 TB/s
TBD
TBD
TBD
TBD
476.9 GB/s
TBP
355W
315W
275-300W
~255W
~225W
175W
165W
PCIe Interface
PCIe 4.0 x16
PCIe 4.0 x16
PCIe 4.0 x16
PCIe 4.0 x16
PCIe 4.0 x16
PCIe 4.0 x16
PCIe 4.0 x8
Price
$999 US
$899 US
$799 US
TBD
TBD
TBD
$269 US
Launch
Dec, 2022
Dec, 2022
TBD
TBD
TBD
TBD
May, 2023