P/N
CA-1J8-00M1WN-00
Case Type
Mid Tower
Dimension (H x W x D)
470 x 470 x 615 mm
(18.5 x 18.5 x 24.2 inch)
Net Weight
17.2 kg / 37.9 lb
Side Panel
5mm Tempered Glass x 2 (Left & Right)
Color
Black
Material
SPCC
Cooling System
–
Drive Bays
-Accessible
-Hidden
3 x 2.5'' (HDD Bracket) ; 2 x 3.5" or 2 x 2.5" (Optional)
2 x 3.5'' or 2 x 2.5'' (Behind the M/B tray)
Expansion Slots
8
Motherboards
6.7" x 6.7" (Mini ITX), 9.6" x 9.6" (Micro ATX), 12" x 9.6" (ATX)
I/O Ports
USB 3.0 x 2, USB 2.0 x 2, HD Audio x 1
PSU
Standard PS2 PSU (optional)
LCS Upgradable
–
Fan Support
Right Side:
4 x 120mm
3 x 140mm
Radiator Support
Right Side:
1 x 480mm
1 x 420mm
Clearance
CPU cooler height limitation: 180mm
VGA length limitation: 320mm
PSU length limitation: 220mm
Thermaltake Core P90 Tempered Glass Edition Mid-Tower Chassis
Thermaltake has kicked open-frame chassis up to a notch and presented the Core P90 Tempered Glass Edition Mid-tower Chassis. The Core P90 TG boasts the case structure split into three compartments for graphic card, PSU and other cooling components. The triangular prism shaped body and two 5mm thick tempered glass side panels turn the Core P90 into a hexagonal prism outlined creature, allowing for an ultimate system display from every angle. Along with its 3-way placement layouts (wall mountable, horizontal laying and vertical standing), 7 drive bays with modular drive trays design and high liquid cooling system expandability, the Core P90 TG permits users upgraded aesthetics and limitless potential with how they want to configure their systems.
Tt LCS Certified
Tt LCS Certified is a Thermaltake exclusive certification applied to only products that pass the design and hardcore enthusiast standards that a true LCS chassis should be held to. The Tt LCS certification was created so that we at Thermaltake can designate to all power users which chassis have been tested to be best compatible with extreme liquid cooling configurations to ensure you get the best performance from the best features and fitment.
A New Angle to PC Gaming
Build from a different angle, isolating components for improved heat dissipation to give each component proper spacing for optimal cooling performance. Present and protect each side with 5mm thick tempered glass panels and extended glass mounts allow easy to clean maintenance.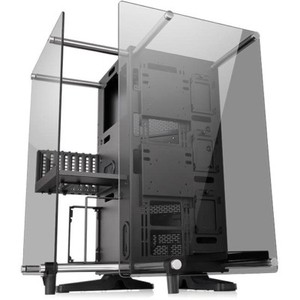 3-Way Placement Layout
Supporting 3-way placement layouts (Wall-mount, Vertical and Horizontal) angle your PC in multiple ways to accommodate users for a variety of configurations. With an Angled frame design, fit your PC like never before with the Core P90.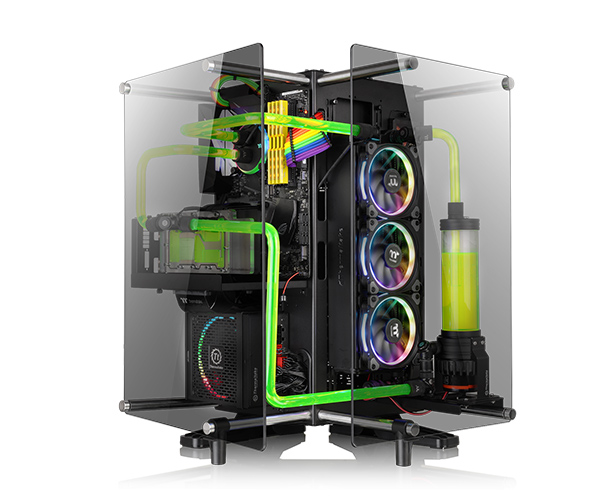 Make the Move to Modular Design
The Core P90 enables users to freely build their system from the ground up with modular panels, racks, brackets, and pre-design mounting arrays. No more unreachable screw corners or gaps to enjoy even more space for your precious parts during installation or maintenance.
3.5" or 2.5" HDD Drive Compatible